Lee County Estimated Median Home Values Increase by 77%
Over the past five years, the national real estate market has experienced remarkable growth with substantial increases in estimated property values.
National Surge: A 44% Increase in 5 Years
In August 2019, the estimated median home value in the U.S. stood at $245,000. Fast forward to August 2023, and that number has increased to $352,000, marking a 44% increase in just five years. Low interest rates and increased demand for housing are some of the driving factors behind these increases nationwide.
The chart below was taken from Realtors Property Resource®, LLC, and shows the increase in the estimated home values of Lee County, Florida, and the US.
Median Estimated Property Value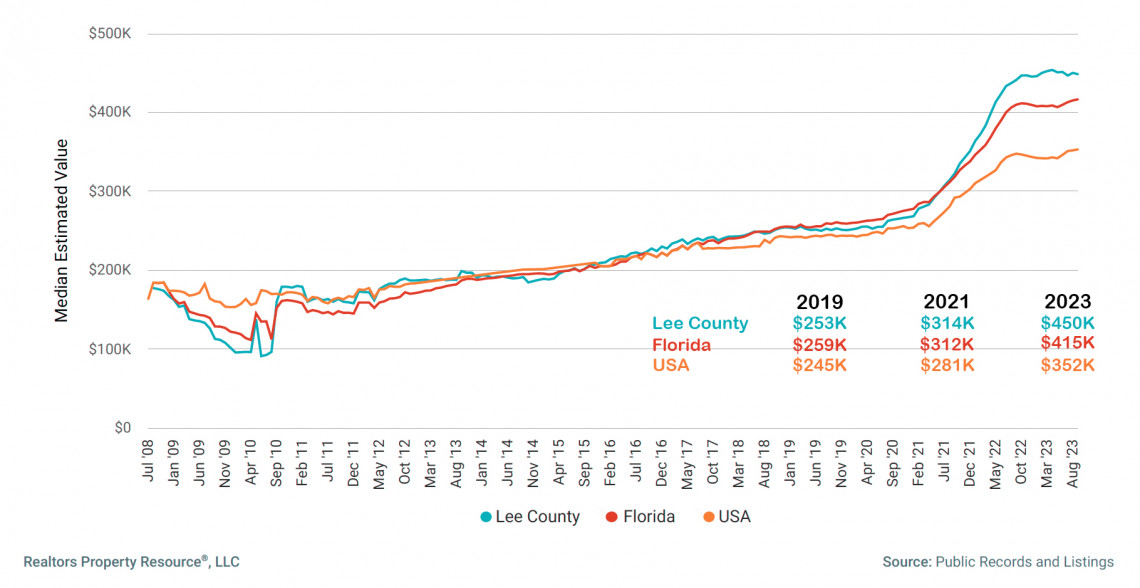 Sunshine State: Florida's 60% Growth
Over the past 5 years, Florida has experienced a real estate boom even greater than the national market. In August 2019, the median estimated home value in Florida was $259,000. By August 2023, this number has jumped to $415,000, showcasing a remarkable 60% increase. This surge can be attributed to a variety of factors, including a strong job market, a desirable climate, and a steady influx of new residents.
Lee County: A Remarkable 77% Increase
Within Florida, Lee County has emerged as a real estate hotspot. In August 2019, the estimated median home value in Lee County was $253,000. In August of 2023, it was $450,000, indicating a significant 77% increase over the past five years. Lee County's appeal lies in its scenic beauty, excellent amenities, and thriving tourism, making it an ideal destination for retirees, vacation homeowners, and investors.
It's important to note the types of property values are we talking about in this article.
The Median Estimated Property Value is calculated using properties with an RVM® (REALTORS Valuation Model) or AVM (Automated Valuation Model) estimated value. The RVM® is a more accurate valuation model, which includes on-market and off-market MLS listing data, plus publicly recorded sold data.
While we use valuation models for comparing market statistics, we caution against the reliance on automated valuations when calculating home values for a specific property. In fact, we always recommend obtaining professional home valuations from an experienced local Realtor® who has inside knowledge that valuation models cannot account for.
You might be thinking, "Can I trust anything automated?"
We understand, in fact, we were curious how these estimated median values compared to actual sold data in our local market. Here's what we found, in August 2019, the median sales price of homes that sold in Lee Couty was $215,000. In August 2023, it was $385,000. That's a 79% increase in the median sales price of homes that sold here in Lee County over the past five years. This seems to support the 77% increase in estimated median home value over the same five-year period.
Median Sales Price
In this blog, we used charts from Realtors Property Resource®, LLC, which include data for all single-family homes, condos, townhouses, and apartments. This data does not include vacant land, multi-family properties, coops, etc.